Apr 28, 2015
Periphery's Jake Bowen and Mark Holcomb sat down with Exclaim! earlier this year to answer some of your questions. Watch the guys discuss the formation of the band, their songwriting process, having Arnold Schwarzenegger as their hype man and which songs they would play on The Eric Andre Show.

Buy Juggernaut: Alpha HERE
Buy Juggernaut: Omega HERE
Apr 27, 2015
In celebration of Record Store Day,Canadian hardcore legendsComeback Kid have released "Rain City Sessions +1" recorded at Vancouver's Rain City Recorders in May of 2014. The album concludes with their cover of Nirvana's "Territorial Pissings". Showcasing Andrew Neufeld's vocal range and complete dominance of each word spat, enjoy a grunge classic, redone by hardcore revolutionaries.

Download 'Rain City Sessions +1' on iTunes

Of the cover, vocalist, Neufeld,shares, "We recorded the cover for "Territorial Pissings" while inthe studio for our last album's Die Knowing sessions. We've sat on the song forover a year now and were able to include it in the 'Rain City Sessions + 1'Record Store Day 10 inch."
He continues, "'Territorial Pissings'in my eyes has always been the most aggressive Nirvana song and we had wantedto cover it for a while. It started with just jamming it during soundcheck,which led to it creeping into our sets, and we recorded it on a whim…keepingtrue to its original form. We didn't mess with it much just tried to do itjustice."
Apr 17, 2015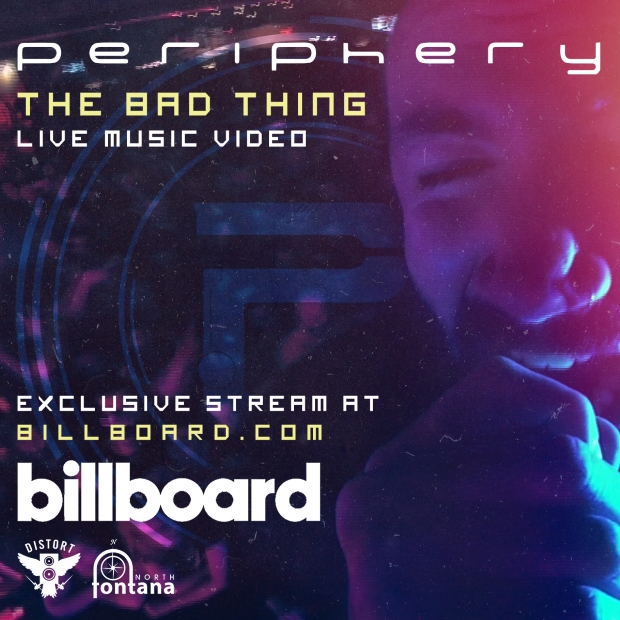 North American Tour Begins April 25

Periphery, who are about to embark on the second leg of their North American tour dates in support of the Juggernaut albums, premiere "The Bad Thing" video today via Billboard.
Jeff Holcomb directed the clip, which features a montage of live footage from the DC-based prog-metal outfit's early 2015 tour. Drummer Matt Halpern explained to Billboard,
"We thought that a live performance for 'The Bad Thing' video was a great way to show the intensity of the song, and to show our direct expression of how it makes us feel on stage."
Periphery released Juggernaut: Alpha and Juggernaut: Omega simultaneously in late January via Distort Inc. / Fontana North, with the pair of releases landing at #22 and #25 on Billboard's Top 200 (#15 and #16 on the Top Albums chart as well as #2 and #3 on Billboard's Hard Rock Chart).

The band was on recent covers of Revolver and Outburn, who said, "Juggernaut… will most likely change the face of modern progressive metal as we know it." Metal Sucks called the releases "full-fledged masterpieces" and Rolling Stone dubbed the albums "the group's most ambitious project yet," saying it "features some of the band's most accessible music."
Periphery begins a new round of North American dates on April 25 at Welcome to Rockville in Jacksonville, Fla. The band joins up with In Flames and All That Remains for a month of dates with stops at Carolina Rebellion, Rock on the Range and Rocklahoma interwoven.
PERIPHERY ON TOUR (CANADA)
May 12 Quebec City, QC Imperial
May 13 London, ON London Music Hall
August 7 Montreal, QC Heavy Mtl